About studio management
Name:
Title:
Degree:
Date of birth:
Place of birth
Work experience:

MEMBER OF :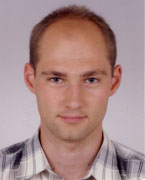 Pavel Krolak
Ing. arch.
Master of architecture
5. September 1978
Kutna Hora
European Union, US, Australia

CZECH CHAMBER OF ARCHITECTS
As an experienced European Architect and Urban Designer I am working in cooperation with colleagues and our specialists in Architectural and Urban Design Studio on various kinds of projects, including development designs of housing, condominiums, commercials, social services etc. In addition we design Urban studies, Land-use plans and area Revitalizations of all size and nationwide. We are working on important Interior, Building and Garden designing as well.

Past four years till 2007 I was working for AGORA Studio, where I have achieved the managerial position (Project Manager).

Today I am independent architect looking for establishing relationships between architects and clients in the dynamic Czech Republic, European Union and other countries on bilateral basis. Me and other architects are very good equipped and have many co-working designers and engineers.

We are looking forward to cooperate with you.